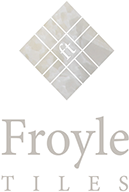 Please get in touch
We are happy to answer any questions you may have, and we will get back to you within 24 hours.
Alternatively please call us on:
01428 684111
Find us at
Froyle Tiles Ltd
Unit 1&3 The Old Coal Yard
Hambledon Road
Hambledon
Surrey
GU8 4DR
Tile Showroom - 9am-4pm Monday to Friday
Saturday by appointment
(Due to the bespoke nature of our service we are occasionally out visiting clients during office hours. If you are travelling any distance I would recommend calling ahead of your visit).
FROYLE TILES LTD, UNIT 1&3 THE OLD COAL YARD,
HAMBLEDON ROAD, HAMBLEDON, SURREY, GU8 4DR
Copyright © Froyle Tiles Ltd